What can you do with old computer equipment?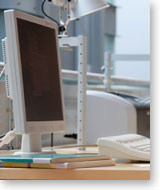 Have you upgraded your computer system and need to discard the old equipment? If the equipment is still in good working condition, consider donating it to Recycled-PC, Inc. After refurbishing the computer, Recycled-PC, Inc. will distribute it free of charge to individuals or to charitable organizations. Recycled-PC, Inc. can also accept computers that are not working, as long as most of the key parts have not been removed. The parts will be used in repairing other computers. In the case of non-working equipment, Recycled-PC, Inc. makes every effort to recycle the metal and circuit boards that can't be used.
Recycled-PC, Inc. is a non-profit corporation with 501(c)3 status, and your monetary and equipment donations are fully tax deductible.
Drop-off and Pickup Arrangements
Recycled-PC, Inc. serves Northern Colorado. Currently we are not able to pick up or deliver equipment. Please contact us to make arrangements to drop-off or to pick up equipment.
What about the information on the hard drive?
The first step we take is to securely erase all of the data on the hard drive, making it impossible for someone else to retrieve your old information. This process utilizes a triple-pass overwrite algorithm that is approved by the US Department of Defense. For hard drives that no longer function, we physically destroy the hard drive.
How do I donate?
Read about our donation process here for a list of equipment and software that we accept. Also, we accept monetary donations to support our mission "To refurbish and distribute computers free of charge".